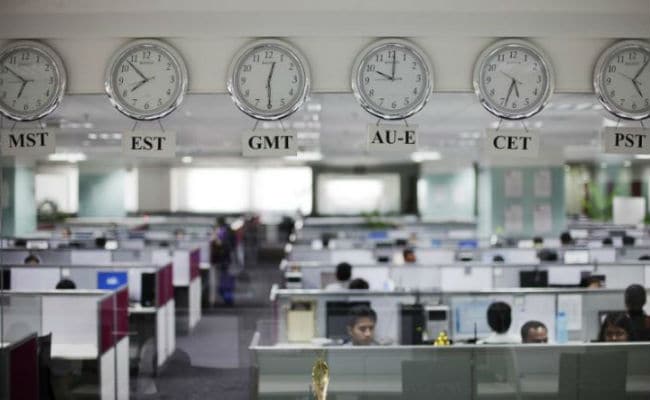 New Delhi:
India's top IT service companies — Tata Consultancy Services (TCS), Infosys and Wipro — will declare their respective third-quarter numbers for the financial year 2021-22 (FY22) on Wednesday. This is apparently the first time that the three firms will announce quarterly figures on the same day. It is widely expected that IT companies could post decent numbers following a year of acquisitions, deal wins and high digital transformation.
Here's Your 10-Point Cheatsheet To This Big Story:
Apart from the quarterly results, the Board of India's largest IT firm TCS will also consider a buyback proposal today. At the end of the September 2021 quarter, TCS had cash and cash equivalents of Rs 51,950 crore.

TCS' previous buyback offer of around Rs 16,000 crore had opened on December 18, 2020, and closed on January 1, 2021. Over 5.33 crore equity shares were bought back under the offer for Rs 3,000 apiece. In the last year, the stock has added 25 per cent.

Further, the IT major has reported deals from new and existing customers across Jaguar Land Rover, State Bank of India, Cainz and others.

Infosys and Wipro have also undertaken buyback programmes to return surplus cash on their books to shareholders.

In September last year, Infosys had said it has bought back over 5.58 crore equity shares as part of its about Rs 9,200 crore buyback offer. Wipro had also completed a Rs 9,500 crore buyback in January last year.

Analysts at brokerage house Anand Rathi have pegged TCS, Infosys and Wipro's quarter-on-quarter growth at 5.3 per cent, 7 per cent and 0.9 per cent respectively.

Wipro's Q3 numbers are expected to be released at 4 pm today, followed by Infosys and TCS at 5 pm.

Wipro's new leadership has implemented several changes. Analysts will be looking out for commentary on how the measures have fared.

Talent management & offshoring, attrition and work from office trends are some of the other aspects that will be keenly watched.

Ahead of the Q3 announcement, TCS was down 0.84 per cent, Infosys was up 1.31, and Wipro was trading 0.88 per cent lower in afternoon deals.